Want to start an argument between two martial artists?  Ask them which knuckles you should punch with?
The fundamental issues here are generating power and mitigating the risk of breaking your hand if you hit a hard bony part of your opponent.
I shot a video on this exact topic, so give it a watch and then scroll down where I've included additional information…
First, Some Basics to Avoid Breaking Your Hand
Fighting is inherently dangerous, and one of those dangers is damaging your fist if you punch someone in the head (or elbow, or hip, or other bony parts of his body).
Your best protection against breaking a knuckle is by making a really tight fist. Here's my article on the best two methods to make a strong fist
Secondly, consider your targeting.
Hitting the body is relatively safe, especially if you aim for the groin, the liver, the solar plexus and the ribs.
But in the heat of the moment it's pretty instinctive to hunt for the head.  So if you do try to punch him in the head then don't aim for the brow, the forehead or the top of the head – those are all relatively thick and tough parts of the skull.
Instead aim for the nose, the chin, the jaw, the temple or even the side of the neck (most of those locations should be familiar from our 'How to Knock Someone Out' article and video).
So we've made sure that your hand is tight, you've picked your target, and now your strike is inbound to his head.  But that still doesn't answer the question of what part of your fist is going to collide with his face…
Two Big Knuckles vs Three Smaller Knuckles?
Your two main choices are laid out in the picture below: you can either aim with the big two knuckles of the pointer and middle finger, or the three smaller knuckles of the middle, ring and little finger.
Traditional Karate, which spends a lot of time punching hard objects like makiwara and sand-filled punching bags,  tends to emphasise hitting with the first two big knuckles, and in this case I'm definitely in the Karate camp.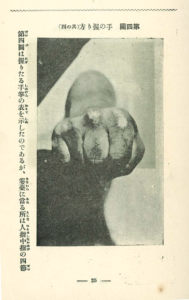 I've punched a ton of hard objects in my day – probably more than has been good for them – and I've always found it better to use those two knuckles.
Those knuckles are bigger and if lined up with the wrist at impact are much less likely to break.
The counter-argument coming from boxing and wing chun kung fu says you should hit with the three smaller knuckles. They argue that the 'line of force' flows better, and that dissipating the force over three knuckles is better than two knuckles.
However boxers rarely punch people in the head without gloves anymore, and wing chun punches aren't very powerful (since they don't tend to utilise body rotation as much as most other martial arts).  So in my opinion that's why they can get away with hitting with the smaller, weaker knuckles.
Also, you're to to consider what what happens when you don't land right on target.
If you're punching with the big two knuckles and your strike turns into a glancing blow then you still make impact with the big index finger knuckle.  It'll hurt, but it might not break.
Conversely if you're punching with the three smaller knuckles and you glance off then you'll probably make contact with the little finger or ring finger knuckle.  These are much smaller bones and the odds of breaking a metacarpal bone in your hand just went through the roof.
Here's a little experiment for you.  I've done it, and I think it's quite instructive…
The next time you see a guy with his right hand in a cast strike up a friendly conversation.  Ask him how he broke his hand; at least half the guys you talk to will tell you they hit someone in a fight.
Next ask them which knuckle they broke? By far the most common answer is that they broke their ring finger or little finger.
My own preference is definitely for the two big knuckles, but martial artists are so attached to their traditions that I don't think we'll settle this argument definitively today.
And What About Hitting With Your Palm?
Some people say you shouldn't do this at all, and that you should only hit with your open hand.
Hitting with the palm is is one of those things that's nice in theory, but doesn't have a whole lot of evidence to back it up.
If you watch one hundred street fight knockouts you'll see 99 or 100 punches and very few palms, so hitting with the fist is a natural human instinct.
And yes, you can find some examples of open handed strikes in MMA (Bas Rutten, Nick Diaz, Igor Vovchanchyn, and others) but it's almost always a circular strike.  They almost never hit with straight palms as advocated in countless self defense courses.
Also given the choice the slap was never their only weapon.  If it was allowed by the ruleset then all those fighters still punched the head, especially when going of the kill.
It's instructive to note that the instructor of the very first self defense class I ever took spent weeks talking about how important it was to hit with the palm rather than the fist.  He made us practise hundreds and hundreds of palm strikes.
And then, one day, he got into a fight at the bar, forgot all about his palm strikes, punched the guy, knocked him out, but ended up with severely bruised knuckles.
(It's funny how people who advocate palm strikes almost never do any real sparring with open hands.  Other than rolling on the ground with light slaps to the face, it's very rare to see anybody spar with hard palm strikes.  I think part of the reason is the shortened reach of palm strikes: those extra 3-4″ of reach with the knuckles are pretty hard to give up when someone is trying to punch you flush in the nose.
So unless you spend huge amounts of time practising your palm strikes, and then actually sparring with them, you're probably going to end up punching in a self defense scenario.
Without lots of actual live sparring of a technique, be it palm strikes, jump spinning hook kicks or kneebars, it's wishful thinking to imagine that a technique is magically going to start working in a real fight.
So fine, go ahead and slap, especially on your swinging strikes.  But when the chips are down and you've got to end this fight right now you're probably going to punch.
And since punches are almost inevitable it's important to understand how exactly you should punch, and to be very deliberate with where you make impact with your fists.