Getting punched in the face is bad enough, but the prospect of getting an elbow to the head is downright scary.
Depending on how exactly you land an elbow, it can knock someone out cold, or cut them open like a razor blade.
And unlike hitting someone with your fist, where your technique needs to be perfect to avoid breaking the small bones in your hand, your elbow is composed of great big resilient bones. So with an elbow strike you don't have to worry about breaking anything other than your opponent.
Trouble is, there are a LOT of different elbow strikes taught in the martial arts.  And most of them haven't really been tested in a very long time.
Fortunately we can look at martial arts like Muay Thai and MMA to get a pretty darn good idea of what happens when you whump someone with your elbow, as well as what the exactly the best ways to do that might be.
To break that down for you, here's a video I just shot that goes into detail about seven proven elbow strikes that translate very well to self defense.
The video also covers precision targeting, protecting yourself in elbow range, and how to make your elbow strikes really powerful.
This is really important stuff, so please check it out!
Here's a quick summary of the 7 elbows covered in the video above..
1 – The Horizontal Elbow
In the horizontal elbow strike your striking arm swings parallel to the floor and strikes either with the forearm (if you want to club someone) or with the point of the elbow (if your intent is to cut them open).
This is maybe the easiest elbow strike to teach, and as such is a great place to start.
This strike can be thrown in tight – hook range and closer – as well as in the clinch.  From the clinch you would typically control your opponent's head with one arm using a collar tie type hold and then pull his head into the elbow, amplifying the power of the shot.
Just remember to keep your other hand up – if you're close enough to land an elbow then your opponent is also close enough to land his elbow strike!
2 – The Downward Elbow
In the downward elbow strike your arm comes down at roughly a 45 degree angle.  This makes it very powerful, because not only are you using body rotation, you're also adding the power of gravity to your shot.
The downward elbow is a little trickier to learn than the horizontal elbow, in part because recovering your arm position after the strike requires a little more coordination.  But it's a skill well worth practising until you get it.
This strike has great potential for opening up a huge cut on the forehead at close range and from the clinch.  It can also be used  in MMA as part of a ground and pound attack against the guard as well.
3 – The Upward Elbow
The upward elbow is like an uppercut with a vastly harder impact surface.  Typically you're swinging your elbow straight upwards (although some people throw it at slight angle) with your hand sliding along the side of your head like you're brushing your hair back.
With this strike you're typically aiming for the bottom of the chin, which is one of the three most important knockout points on the human head.
Just like before, keep your other hand up and ready to defend against any counterattack.
4 – The Spearing Elbow
The spearing elbow superficially looks like the upward elbow (number 3, above), but the mechanism that powers the strike is quite different.
In this attack you fold your arm into position so that your elbow is pointing forward, and then you lunge forwards that it spears into your opponent's chest, shoulder, neck or face.
This type of elbow attack is used a lot in the Filipino and Indonesian martial arts, although in these arts your other hand is typically trapping or checking your opponent's hands rather than covering up like you would in Thai boxing (examples of both are given in the video at the top of the page).
5 – The Dropping Elbow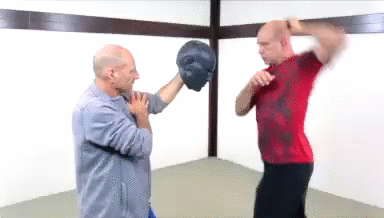 The dropping elbow is used in Muay Thai to attack the top of the head, the neck and the clavicle.  It's a powerful move that uses arm strength and gravity to drop the pointy part of your elbow down onto your unfortunate opponent.
The trick here is to make this elbow as non-telegraphic as possible.  You don't want to wind up like some karateka about smash through 4 slabs of ice.  Instead you want to withdraw your arm just enough to generate power without giving your opponent notice of the impending attack.
This elbow is essentially the 12-to-6 (12 o'clock to 6 o'clock) elbow banned in the UFC, which is ridiculous because although it is a dangerous technique there are many more dangerous, and more powerful elbow strikes that are totally legal inside the octagon.
6 – The Reverse Elbow
The reverse elbow uses the backside of the elbow to smash into your opponent's face.
In the video at the top of this post we show several examples of how this type of elbow might be used, including defending against a sloppy rear bearhug and also following up after a missed punch or elbow.
In a Muay Thai or MMA match your opponent will be in front of you 99% of the time.  But self defense situations are different, and it's much more common for an attacker to approach you in your blind spot.  Because of this, knowing how to throw a powerful reverse elbow in a variety of directions, including both behind you and in front of you, is an important skill.
7 – The Spinning Elbow
The spinning elbow is a very powerful technique.  If it lands cleanly then more often than not you're going to knock someone down or knock someone out.
It is performed somewhat like a spinning backlist, although at closer range.  Since this move  does expose your back it's important to set this attack up with a feint, a fake, or footwork so that you're not just launching it from a standstill.  And having a recovery plan to get back to a good position if you miss and/or continue with another attack is also really important.
That being said, the hugely variable nature of a streetfight (i.e. your opponent(s) not always starting right in front of you) means that the fluidity, balance and 360 degree awareness cultivated by the spinning elbow attack is very useful.  And when you add in the tremendous power and knockout potential, well, there are a lot of reasons to practise this technique once you've mastered the other elbows!
Download Our Self Defense Library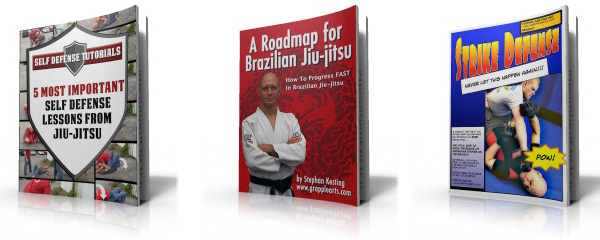 Here are just 3 of the resources we make available for free to our newsletter readers.
The newsletter itself will give you some of our very best self defense tips, techniques and training methods.  It's 100% free, always will be, and is very easy to unsubscribe from if you don't like what you get.
If you're interested in realistic martial arts training and self defense then you really should check it out.  I get nothing but great feedback about it all the time.
Click here to find out more about our free self defense tips newsletter!